SENSORY WORKSHOP


Fundamentals of the sensory analysis
& the verification of the sensory sensitivity
Training locations and dates:
About training:
'Fundamentals of the sensory analysis & the verification of the sensory sensitivity' training
Every company aims to develop a unique products to please the customers and secure their loyalty. However, majority of the companies are not successful with meeting that aim.
Product matters
Just have a closer look at the market. Can you see how many products are similar to each other? That is a result of copying products offered by market leading companies. With competition rising everyday companies must do their best to create outstanding innovative products.
Quality matters   
You must be aware that the brand itself does not guarantee a success of the product. Customers' demands are growing and they want their voice to be heard. Unhealthy and poor quality products are quickly vanishing from the market. Today, beyond the brand, the product must provide quality.
Sensory analysis gives you an answer
The importance of the sensory analysis in the development of the products is crucial. Especially, but not inclusive, in the Food and Cosmetics industries, where sensory analysis should be used both to develop new products, and to monitor the quality of the products already implemented on the market.
Objective organoleptic evaluation in practice
During sensory workshops 'Fundamentals of sensory analysis & verification of sensory sensitivity' participants will acquire basic knowledge in the field of sensory analysis, and will also be introduced to the secrets of performing proper sensory evaluation under the supervision of an experienced sensory expert. They will have also a unique opportunity to participate in a professionally prepared tasting session combined with an objective organoleptic evaluation.
Sensory tests
A huge advantage of sensory workshop is the opportunity to participate in professional sensory tests to verify the individual sensory sensitivity ended by the individual sensory evaluation, which will be prepared and sent afterwards.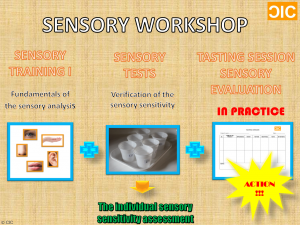 Aim of training:
The aim of the 'Fundamentals of the sensory analysis' training are:
1) to familiarize participants with the sensory analysis theme and its basic concepts;
2) to learn from an experienced sensory expert how to conduct proper sensory analysis and how to conduct proper tasting session in theory & practice;
3) to verify sensory sensitivity of each participants ended by preparation of the individual sensory evaluation
Program of training: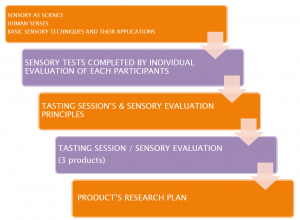 Agenda:
10:00 – 11:00 Fundamentals of the sensory analysis – part I
11:00 – 13:20 Sensory tests
13:20 – 14:00 Lunch
14:00 – 14:30 Fundamentals of the sensory analysis – part II
14:30 – 15:30 Tasting session's & sensory evaluation principles
15:30 – 16:00 Products' research plan
For whom?
The course is designed primarily for all those associated with sensory analysis and its application, in particular for managers, food technologists, marketing teams, quality assurance departments, on-site laboratories, sales departments and factory workers responsible for the organoleptic evaluation of products in factories.
During training participants will be familiarised with:
basics of the sensory analysis, definitions and terminology
rules for the sensory testing implementation and sample preparation
basic method of sensory analysis and its application
product research plan – the combination of sensory analysis methods combined with consumer research
recruitment and verification rules for a sensory team
tasting session's & sensory evaluation principles
factors affecting the reliability of the results
A participant also:
take part in sensory tests that aims to verify sensory sensitivity in terms of the senses such as taste, smell, feel and vision
do independently the sensory evaluation of 3 to 5 products according to the tasting session's & sensory evaluation principles known during the theoretical part
Groups:
The training takes place in groups of 8-15 people.
Duration: 1 day
About the Trainer: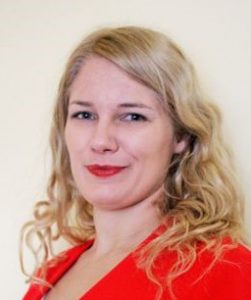 Agata Markiewicz
Agata is an experienced consumer insights and sensory specialist. She gained theoretical and practical  knowledge of various quantitative and qualitative methodologies within the sensory analysis thorugh many years of working for the global market leaders in the FMCG sector (e.g. Unilever and Heinz) in various units in Europe (Poland, Germany, the Netherlands, England, France). During that period Agata gained deep understanding of various products specifications: from fresh to frozen, e.g. soups, sauces, ketchups, ready meals, juices, tomato products, chilled products, salads, vegetables, powder products, desserts, ice-creams, teas.
Standard Fee:
PLN 1000 net  +  23% VAT (in Poland)
EUR 650 net + VAT (outside Poland)
Price includes: participation in workshop, sensory tests and preparation of individual sensory evaluation for each participant,  training materials, coffee breaks, lunch, certificate.
Registration:
To register please fill this application form in English:
This training is as well available as corporate training and can be ordered by comapnies.
Please see our section:
Other useful training: