MARKETING ACTIVITIES IN THE PROCESS OF NEW PRODUCT DEVELOPMENT



Training locations and dates:
About training:
Are you wondering whether the perfect model to enhance the development of a new product exists within an organization?
Are you going to compare your own path of action with others practised within the market?
This training will enable you to familiarise yourself with effective, useful solutions, to exchange opinions ant to analyse a particular chosen approach.
Aim of training:
Participants will learn what the process of product development looks like in the contemporary organization, where it is possible to assess weak points and how to overcome them. Training tasks will concentrate on specific links in the development chain  and will simplify and answer frequently asked questions:
What model of action is the most effective?
What is more important in the process – the system or people?
Where, apart from the quality, should one search for the added value of a product?
Is the market and buyers research always necessary?
How to plan marketing actions in the development process of new releases?
What should a leader of a particular project be responsible for?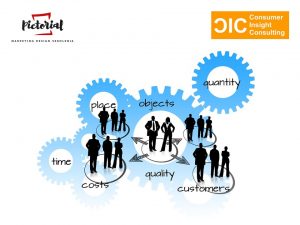 Program of training: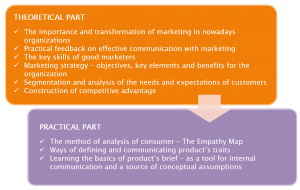 For whom?
The training is designed primarily for all persons working with the marketing department, who would like to better understand and deepen their knowledge about the basic marketing activities in the process of new product development. Training is in particular dedicated to managers, departments: R&D, sales, purchasing, quality, and manufacturing employees.
Agenda:
10:00 – 11:00
2 stages, 3 actions, 6 steps – what the process of releasing a new product into the market place looks like – workshop

4 models of implementing – how to launch a product in the perspective of resources of the company and the market structure.

11:00 – 11:05
Break
11:05 – 12:15
Unique product features – how we should understand innovation.

        Defining the value for the recipient (USP, RTB) – workshop
        The needs of consumers

12:15 – 12:20
Break
12:20 – 13:20
Target market – why do we need that to know our customers?

        Segmentation, macro environment and potential users analysis
        Competitive value proposition
        Organization of resources
        Implementation of a strategy
        Business model

13:20 – 14:00
Lunch
14:00 – 15:25
Implementation process vs the structure and the business model of the company

Evolution within the company in the implementation process.

15:25 – 15:30
Break
15:30 – 16:00
Intra-organizational cooperation – who is it worth employing? – workshop

Milestones

Communication within the process – what it is worth knowing, when to talk and whom to consult with regarding a particular project.
Groups:
The training takes place in groups of 8-15 people. This workshop is led in Polish for now (but soon as well it will be available in English).
Duration: 1 day
About the Trainer: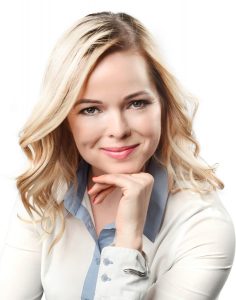 Sylwia Piskulska
Intellectually
Sylwia believes that a good project begins with a great concept. She likes to climb higher in order to gain a broader perspective. She thinks with questions, because these facilitate in driving her forward to gain answers and a better solution that is simpler, straighter, less complicated and more appropriate to her Clients' needs.
Sylwia believes in motivating her Clients to extend beyond their comfort zone, to expand the largest asset that we have all been given, our mind. In some cases this process  can be difficult, but in the majority of cases it is by far the most rewarding. She believes in finding answers, assessing the schemes and beliefs that are slowing you down and obliterating them. She gets rid of those walls that are obstructing you so that you can move forward, unhindered, faster, effective and more efficiently.
Empirically
Sylwia is a graduate of the University of Economics in Poznań. For 16 years she has been immersed in marketing. It is her forte! She was at the forefront in the launch of over 60 new brands and 3000 new products. She has worked in conjunction with Polish and international teams. Her concepts have won several marketing awards and the recognition of her peers within and external to the industry. She is a member and mentor at the Mentor Program of the Women Leadership of Business Foundation.
Standard Fee: 
PLN 1000 net  +  23% VAT (in Poland)
Price includes: participation in the training, training materials, coffee breaks, lunch, certificate.
Other useful training: