MARKETING FOR NON MARKETERS



Training locations and dates:
About training:
Would you like to work with your marketing team more effectively?
You intend to learn more about the specifics of this area of expertise?
Or maybe your goal is integration of the work learned?
This workshop is a good start to demolish the myths and stereotypical approach to marketing. It is also very effective training to build maturity in your approach to integrated work.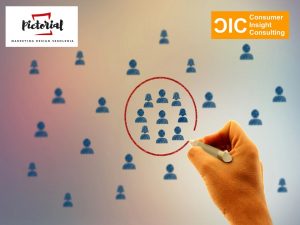 Aim of training:
Participants will learn how modern organizations define objectives and marketing goals. What this discipline of knowledge is and how it is translated into conditions within the infrastructure of a company. Our training will broaden your knowledge by simplifying responses to a number of interesting questions:
• Is marketing a source of cost or savings?
• What is common and what divides marketing with other departments in the organization?
• How can you recognize a good marketer?
• Why to enter into the customer's shoes?
• Who should be loved, a consumer or a product?
• Why does a product need an added value?
Program of training: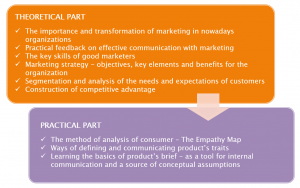 For whom?
The training is designed primarily for all persons working with the marketing department, who would like to better understand and deepen their knowledge about the mechanism and basic operation methods in this area. The training is in particular dedicated to the management, R&D department, sales department, purchasing department, quality department and manufacturing employees.
Agenda:
10:00 – 11:00
Marketing. The cost, investment potential or a source of the savings?

        The role and meaning in a modern organization
        Types of the marketing activities

One's point of view depends on the point where one sits. Is more connecting or dividing us?

        Invisible walls between Marketing, R&D and the Sale Departments
        The effective dialogue and efficient communication

Good marketing specialists. How can you recognize them?

        5 basic skills of a good marketing specialist
        3 features valued the most by cooperating departments

11:00 – 11:05
Break
11:05 – 12:15
Marketing strategy. How does Power Point relate to life?

        Goals and key elements
        Benefits to the organization

Entering the shoes of the customer. Why to do it?

        Defining your target group
        Holy Grail of marketing specialists
        A map of Empathy (workshop)

12:15 – 12:20
Break
12:20 – 13:20
Centre of attention. To love the consumer or the product?

        The analysis of the needs and expectations
        Customer segmentation

Influential marketing instruments. What to choose?

        Marketing-mix
        Selection of the appropriate method and marketing tools

13:20 – 14:00
Lunch
14:00 – 15:25
On the construction site of gaining a competitive advantage. How to stand out?

        Law of perception
        Law of resources

Value added. What purpose does it serve? How to define it?

        USP, RTB
        Communication of characteristics (workshop)

Chasing reality. What new transformations is marketing undertaking?

        Marketing 1.0, 2.0 and 3.0
        Digital transformation

15:25 – 15:30
Break
15:30 – 16:00
Marketing myths. What is not worth believing?

        5 most popular misbeliefs

From the perspective of cooperating departments. What should you ask your marketing team about?

        5 leading questions
        Brief product (workshop)
Groups:
The training takes place in groups of 8-15 people. This workshop is led in Polish for now (but soon as well it will be available in English).
Duration: 1 day
About the Trainer: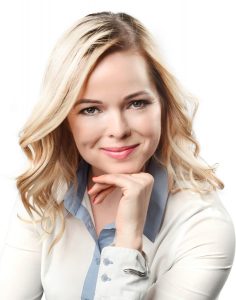 Sylwia Piskulska
Intellectually
Sylwia believes that a good project begins with a great concept. She likes to climb higher in order to gain a broader perspective. She thinks with questions, because these facilitate in driving her forward to gain answers and a better solution that is simpler, straighter, less complicated and more appropriate to her Clients' needs.
Sylwia believes in motivating her Clients to extend beyond their comfort zone, to expand the largest asset that we have all been given, our mind. In some cases this process  can be difficult, but in the majority of cases it is by far the most rewarding. She believes in finding answers, assessing the schemes and beliefs that are slowing you down and obliterating them. She gets rid of those walls that are obstructing you so that you can move forward, unhindered, faster, effective and more efficiently.
Empirically
Sylwia is a graduate of the University of Economics in Poznań. For 16 years she has been immersed in marketing. It is her forte! She was at the forefront in the launch of over 60 new brands and 3000 new products. She has worked in conjunction with Polish and international teams. Her concepts have won several marketing awards and the recognition of her peers within and external to the industry. She is a member and mentor at the Mentor Program of the Women Leadership of Business Foundation.
Standard Fee: 
PLN 1000 net  +  23% VAT (in Poland)
Price includes: participation in the training, training materials, coffee breaks, lunch, certificate.
Other useful training: