SENSORY TRAINING II


Application of sensory techniques in food products' evaluation
Training locations and dates:
About training:
'Application of sensory techniques in food products' evaluation' training
Today, beyond the brand, the product counts itself and its quality! More and more consumers draw attention to the product itself, are interested in its quality, and more often check ingredients' lists.
While shopping or eating are consumers only paying attention to the particular brand?
Yes but not only. They look as well at product's appearance, smell, taste, texture etc. For this reason it is important to have good knowledge about the sensory analysis and how to carry a proper organoleptic evaluation and how and when sensory techniques could be used. Nowadays this knowledge is extremely important in the food industry!
During the training 'Application of sensory techniques in food products' evaluation' participants will gain knowledge about chosen sensory techniques that could be helpful in the food products'evaluation.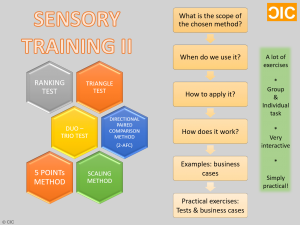 Aim of training:
The aim of the training is to familiarize the participants with the chosen sensory techniques used in food products' evaluation.
Program of training: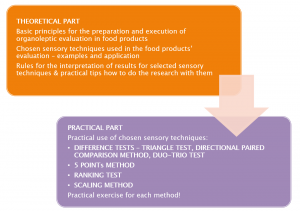 Agenda:
10:00 – 11:00 Basic principles of sensory analysis
11:00 – 12:30 Application of sensory techniques in food products' evaluation – part I
12:30 – 13:30 Lunch
13:30 – 16:00 Application of sensory techniques in food products' evaluation – part II
For whom?
The training is designed primarily for all those associated with sensory analysis and its application in the products development and monitoring, in particular for managers, food technologists, marketing teams, quality assurance departments, on-site laboratories, sales departments and factory workers responsible for the organoleptic evaluation of products in factories.
During training participants will be familiarised with:
basic principles for the preparation and execution of organoleptic evaluation in food products
chosen sensory techniques used in the food products' evaluation – examples and application
rules for the interpretation of results for selected sensory techniques:

DIFFERENCE TESTS – TRIANGLE TEST, DIRECTIONAL PAIRED COMPARISON METHOD, DUO-TRIO TEST
5 POINTs METHOD
RANKING TEST
SCALING METHOD
A participant also:
receive practical tips to the research done with the use of selected sensory techniques
take part in practical tasks where selected sensory techniques will be used
Level of advance:
It would be good if participants have basic knowledge about sensory analysis. It is recommended taking part in SENSORY TRAINING I Fundamentals of the sensory analysis or SENSORY WORKSHOP organized also by Consumer Insight Consulting company as an open training.
Groups:
The training takes place in groups of 8-15 people.
Duration: 1 day
About the Trainer: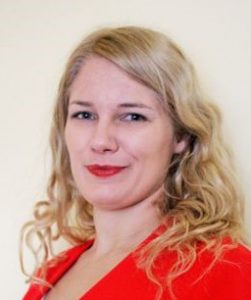 Agata Markiewicz
Agata is an experienced consumer insights and sensory specialist. She gained theoretical and practical  knowledge of various quantitative and qualitative methodologies within the sensory analysis thorugh many years of working for the global market leaders in the FMCG sector (e.g. Unilever and Heinz) in various units in Europe (Poland, Germany, the Netherlands, England, France). During that period Agata gained deep understanding of various products specifications: from fresh to frozen, e.g. soups, sauces, ketchups, ready meals, juices, tomato products, chilled products, salads, vegetables, powder products, desserts, ice-creams, teas.
Standard Fee: 
PLN 1000 net  +  23% VAT (in Poland)
EUR 600 net + VAT (outside Poland)
Price includes: participation in the training, training materials, coffee breaks, lunch, certificate.
Registration:
To register please fill this application form in English:
This training is as well available as corporate training and can be ordered by comapnies.
Please see our section:
Other useful training: